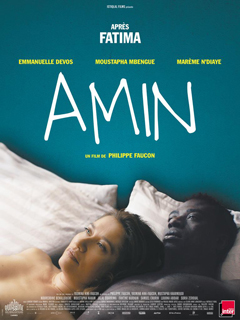 Sunday, June 23 - 2:00pm
Followed by Q&A with Benjamin Serero, director of the short film
Esperança
REVIEWS
A work of tender humanism (...) The film's main asset is Mbengue in the central role of Amin. Wendy Ide - Screen International
Between Europe and Africa, a poignant journey about loneliness and uprooting, with a duo of sensitive actors. Claudine Levanneur - aVoir-aLire
Philippe Faucon directs a sensitive and political film about the loneliness of immigrant men. Sophie Joubert - L'Humanité
AWARD
- 2018 Hamburg Film Festival, Sichtwechsel Film Award
Director:
Philippe Faucon

Screenplay: Philippe Faucon, Yasmina Nini-Faucon & Mustapha Kharmoudi


91 min

Drama

Not Rated (nudity, adult situations)

International Sales: Pyramide Films

In French, Wolof & Arabic with English subtitles.

Cast:
Moustapha Mbengue: Amin Sow
Emmanuelle Devos: Gabrielle
Marème N'Diaye: Aïcha
Noureddine Benallouche: Abdelaziz
Moustapha Naham: Ousmane
Jalal Quarriwa: Sabri

Followed by Q&A with Benjamin Serero, Director of the short film Esperança

WATCH THE TRAILER!
(BANDE ANNONCE)
Amin (Moustapha Mbengue) came from Senegal nine years ago to work in France, leaving behind his wife Aïcha and their three children. His work is his life and his friends are the other immigrant men who live with him in a nondescript dormitory building. He lives for the times he can go back to see his family. Aïcha desperately wants him to take her and the children to France, but she reluctantly accepts the situation: Amin will continue to send money home and she will monitor the construction of a new home they are building on an empty plot of land outside their village. But, it is becoming harder and harder to tolerate being apart for so long.
One day, Amin meets Gabrielle (Emmanuelle Devos, Number One – SFFF 2018, The Chef's Wife - SFFF 2014) and a relationship starts between them. At first, Amin is reserved. There is the language barrier, his modesty. So far, he has led a life devoted to duty. Now he finds himself living a double life.
Dubbed the French Ken Loach, Philippe Faucon (whose previous feature, Fatima, opened the 2016 SFFF) delivers another compassionate social drama that reflects the particular struggles of immigration, both for those who leave their home countries and for those who are left behind.
Shown with ESPERANÇA by Cécile ROUSSET, Jeanne PATURLE & Benjamin SERERO
CREST THEATRE
Sunday, June 23 - 2:00pm