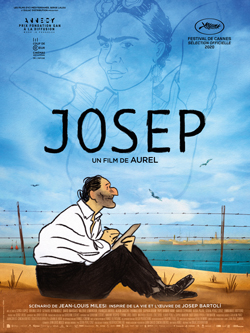 Followed by Zoom Discussion with Screenwriter Jean-Louis Milesi on Friday, June 25 @ Noon. If you purchase a ticket to the film, you will receive the Zoom invitation. Questions about the discussion? Email kelstob@csus.edu
ESQUIRE IMAX THEATRE: 1211 K Street, Downtown Sacramento
SINGLE TICKETS: $15
Tickets are sold at the door & online through the Esquire IMAX website. Click HERE to order your single tickets!
Director: Aurel
Screenplay: Jean-Louis Milesi
CAST:
Sergi López: Josep Bartoli (voice)
Bruno Solo: Young Serge (voice)
François Morel: Robert (voice)
David Marsais: Valentin (voice)
Valérie Lemercier: Valentin's mother (voice)
Thomas Vandenberghe: Valentin's father / The Doctor (voice)
Gérard Hernandez: Older Serge (voice)
74 min
ANIMATION, HISTORY
Not Rated (all audience)

This film is part of Young French Cinema, a program of UniFrance and the Cultural Services of the French Embassy.
In French with English subtitles.
TRAILER
REVIEWS:
It's a delicate, thoughtful film, moving and real.
Cath Clarke - The Guardian
An evocative portrayal of art and war.
Jordan Mintzer - The Hollywood Reporter
A poignant and skillfully constructed feature film.
M.O. - Ouest France
It is a multi-layered and hugely effective set-up for a story: part tale of friendship, part artist biography, and part much-needed history lesson.
Grant Watson - Fiction Machine
[A] somber but ultimately heartening account of how the human spirit copes with inhuman circumstances.
Lisa Nesselson - Screen International

In February 1939, after the fall of Barcelona to General Franco's troops, nearly 500,000 Spanish Republicans crossed the Pyrenees to find refuge in France. Overwhelmed by the flood of people, the French government built concentration camps, confining the refugees – men, women, and children alike – in squalor, where they were beaten, tortured, and starved.
Among those anti-fascist refugees was Catalan artist Josep Bartolí who created a visual record of the abysmal conditions in which he and his fellow Republicans were kept. Josep tells Bartolí's story through a fictionalized friendship with Serge, a young French gendarme (policeman) who is much kinder than his peers. The film is told in flashback by the elderly Serge to his teenage grandson.
Beautifully crafted by French cartoonist and comic book artist Aurel, whose work can be found in Le Monde newspaper, and written by Jean-Louis Milesi (a regular guest at the SFFF), Josep revisits a period in French history that has rarely, if ever, been portrayed on screen, and is not taught in schools. It makes for a fascinating learning moment as it unveils the shameful role played by the French police during the Spanish Civil War and World War II.
Josep is a magnificent and harrowing animated film, made by an artist about another artist who kept drawing, no matter the hardship he faced. An unforgettable experience.