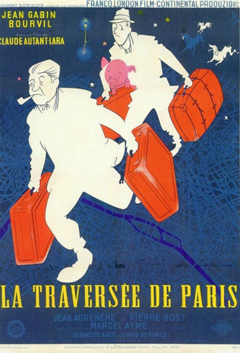 COMING SOON
on VIRTUAL CINEMA ONLY!
$10 rental fee (the SFFF gets 50% of the net revenue).
VIRTUAL Q&A SESSION with Film Historian Chuck Zigman. Friday, June 5 @ 6:30pm.

AWARDS
Best Actor - Bourvil (Venice Film Festival, 1956)
Best Film (French Syndicate of Cinema Critics, 1958)
REVIEWS
EXPLOSIVELY HILARIOUS!
Pauline Kael
The New Wave critics usually expressed disdain for carefully devised products of 'the French tradition of quality' like this, but even the combative François Truffaut placed La Traversée de Paris among the best films of its year.
Dave Kehr — The New York Times
One of the most realistic, most caustic, most pitch-perfect films about what it meant to live in Paris under the Occupation. It is timeless.
Bertrand Tavernier
THE MOST EXHILARATING KIND OF CRAZY COMEDY.
David Edelstein — New York Magazine
A high point of the French cinema of the 1950s!
Richard Roud
Proves that perhaps the best way to elucidate on a country's troubled, dark epoch is to use comedy and performance to provide the light.
Nick McCarthy — Slant
WHAT IS VIRTUAL CINEMA?
CHECK OUT OUR FULL VIRTUAL CINEMA PROGRAM HERE!
Virtual Cinema is a platform put together by independent U.S. distributors, in partnerships with independent movie theaters & film festivals, to offer the latest independent and foreign films while theaters remain closed.
HOW TO WATCH THE FILM
- Click on the LINK HERE
- Click on VIRTUAL SCREENING.
- Create an account & enter your payment information.
- Pay the $10 rental fee (the SFFF will get 50% of the net revenue).
- You will be able to watch the film for 3 days (72 hours) from the time of rental on any computer, laptop, iPad, Chromebook or other mobile devices.
IMPORTANT! The only way to watch this film on a television set is to mirror or cast from one of the above devices to your television.
Director:
Claude Autant-Lara


Screenplay:
Jean Aurenche, Pierre Bost
Based on the story by Marcel Aymé


80 min

Comedy

Not Rated (all audience)

U.S. Distribution:
Rialto Pictures

In French with English subtitles.

Cast:
Jean Gabin: Grandgil
Bourvil: Marcel Martin
Louis de Funès: Jambier, l'épicier
Jeannette Batti: Mariette Martin
Georgette Anys: Lucienne Couronne, la patronne du cafe Belotte
Robert Arnoux: Marchandot
Laurence Badie: La serveuse du restaurant

Your rental supports
the Sacramento French Film Festival
During German Occupation, a transaction involving black market pork in Paris is carried out like a modern-day drug deal.
The straight-laced ex-cabbie/black-marketeer Martin (Bourvil) recruits Grandgil (Jean Gabin), a stranger he met in a bar, to help him deliver four suitcases full of black market pork across Nazi-occupied Paris. While Martin tries to make it through with workmanlike efficiency, the unpredictable Grandgil keeps getting them into, and then hilariously talking them out of, trouble with both the Germans and French police. As the two unlikely companions walk along dark Parisian streets over the course of one night, they encounter various characters and adventures, until the chilling, class-laden final twist.
First released in 1956, La Traversée de Paris is one of the most beloved classic French comedies. It stars three of France's most popular actors: Jean Gabin, Bourvil & Louis de Funès.
OPENING FRIDAY, MAY 29, 2020
on VIRTUAL CINEMA ONLY!