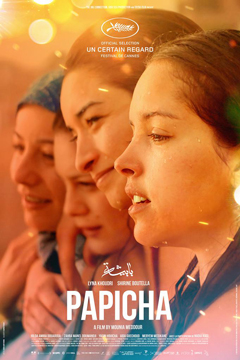 OPENING on MAY 29
on VIRTUAL CINEMA ONLY!
VIRTUAL Q&A SESSION with Le Professeur Kevin Elstob. Thursday, June 4 @ 6:30pm.
AWARDS
-César 2020 for Most Promising Actress (Lyna Khoudri) & Best First Feature Film.
-Best Arab Film, El Gouna Film Festival 2019.
-Humanitarian Award, Satellite Awards 2019.
-Audience Award, Valladolid International Film Festival 2019.
-Algeria's official submission for the Best International Feature Film category of the Academy Awards.
REVIEWS
The emotions are there in every claustrophobic camera angle, in thriller-tinged scenes that show female self-expression being denied and muffled both by enemies and so-called friends.
Screen International
HARROWING!
Hollywood Reporter
BURSTING WITH ENERGY!
Variety
WHAT IS VIRTUAL CINEMA?
CHECK OUT OUR FULL VIRTUAL CINEMA PROGRAM HERE!
Virtual Cinema is a platform put together by independent U.S. distributors, in partnerships with independent movie theaters & film festivals, to offer the latest independent and foreign films while theaters remain closed.
HOW TO WATCH THE FILM
- Click on the LINK HERE.
- Click on VIRTUAL SCREENING.
- Create an account & enter your payment information.
- Pay the $10 rental fee (the SFFF will get 50% of the net revenue).
- You will be able to watch the film for 3 days (72 hours) from the time of rental on any computer, laptop, iPad, Chromebook or other mobile devices.
IMPORTANT! The only way to watch this film on a television set is to mirror or cast from one of the above devices to your television.
Director:
Mounia Meddour


Screenplay:
Mounia Meddour & Fadette Drouard


105 min

DRAMA

Not Rated (some violence)

U.S. Distribution:
Distrib Films

In French & Arabic with English subtitles.

Cast:
Lyna Khoudri: Nedjma 'Papicha'
Shirine Boutella: Wassila
Amira Hilda Douaouda: Samira
Yasin Houicha: Mehdi
Zahra Manel Doumandji: Kahina (as Zahra Doumandji)
Marwan Zeghbib: Karim
Aida Ghechoud: Saliha
Meriem Medjkrane: Linda
Your rental supports
the Sacramento French Film Festival
Algeria, 1990s.
Nedjma (Lyna Khoudri, who is starring in Wes Anderson's upcoming The French Dispatch), a free-spirited 18 year-old student living on the university campus, dreams of becoming a fashion designer. At night, she sneaks out with her best friend Wassila, climbing the fence of the school to go clubbing and sell her garments in the nightclub's bathrooms to "papichas" (Algerian slang for a hip, pretty young girl).
The country's political and social situation continues to deteriorate, and women's freedoms especially are being curbed as Islamist extremists attempt to force their agenda on those deemed too Western. Despite being confronted with violence, Nedjma valiantly refuses to let the tragic events of the Algerian Civil War keep her from experiencing a normal life. Braving everything, and supported by her friends, she decides to fight for their freedom by organizing a fashion show.
Papicha is set during the Algerian Civil War of the 1990s, also referred to as the "Black Decade," and was inspired by real events.
OPENING FRIDAY, MAY 29, 2020
on VIRTUAL CINEMA ONLY!