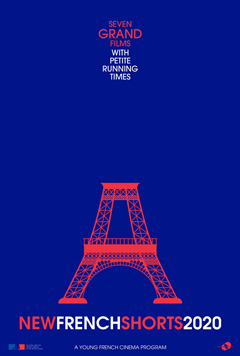 NOW PLAYING
on VIRTUAL CINEMA ONLY!
$12 rental fee (the SFFF gets 50% of the net revenue).
REVIEWS
A marvelously robust and compelling group of French shorts... with flashes of honesty, humor and a little horniness.
Andrew Hebden -Queer Guru
France has always been the heart of cinematic art... The seven short films have a remarkable, multicultural range.
Charles Ealy - Sightlines Austin
The eclectic lineup... tick[s] several familiar boxes of great entertainment, all wrapped in an artistically-minded 2-hour package.
Andrew Shearer - Online Athens
WHAT IS VIRTUAL CINEMA?
CHECK OUT OUR FULL VIRTUAL CINEMA PROGRAM HERE!
Virtual Cinema is a platform put together by independent U.S. distributors, in partnerships with independent movie theaters & film festivals, to offer the latest independent and foreign films while theaters remain closed.
HOW TO WATCH THE FILM?
- Click on the LINK HERE
- Click on SCREEN FOR $12
- Register & enter your payment information
- Pay the $12 rental fee (the SFFF will get 50% of the net revenue).
- You will be able to watch the film for 3 days (72 hours) from the time of rental on any computer, laptop, iPad, Chromebook or other mobile devices.
IMPORTANT! The only way to watch this film on a television set is to mirror or cast from one of the above devices to your television.
Directors:
Foued Mansour, Marion Lacourt, Cecilia de Arce, Vasilis Kekatos, Clémence Poésy, Marine Levéel and Benjamin Crotty

126 min

Short Films

Not Rated (all audience)

U.S. Distribution:
Kino Lorber

In French with English subtitles.

Your rental supports
the Sacramento French Film Festival
WATCH THE
NEW FRENCH SHORTS
HERE!
This showcase of some of the most exciting new cinematic voices from France runs the gamut from animation to romance to absurdist comedy. Revel in these mini French pleasures, including award winners from Cannes, Locarno, and Palm Springs ShortFest.
PROGRAM
Ahmed's Song
by Foued Mansour - 30 minutes

Sheep, Wolf, and a Cup of Tea...
Marion Lacourt - 12 minutes

Tuesday from 8 to 6
Cecilia de Arce - 26 minutes

The Distance Between Us and the Sky
Vasilis Kekatos, 9 minutes

The Tears Thing
Clémence Poésy - 25 minutes

Magnetic Harvest
Marine Levéel - 24 minutes

Bonus: The Glorious Acceptance Speech of Nicolas Chauvin
Benjamin Crotty - 26 minutes
New French Shorts 2020 is made available through Young French Cinema, a program of UniFrance and the Cultural Services of the French Embassy.
OPENING FRIDAY, MAY 22, 2020
on VIRTUAL CINEMA ONLY!