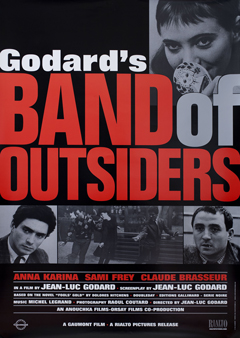 NOW PLAYING
on VIRTUAL CINEMA ONLY!
$10 rental fee (the SFFF gets 50% of the net revenue).
VIRTUAL Q&A SESSION with Film Historian J. Greenberg on Friday, May 15 @6:30pm.
REVIEWS
A REVERIE OF A GANGSTER MOVIE! It's as if a French poet took a banal American crime novel and told it to us in terms of the romance and beauty he read between the lines; Godard re-creates the gangsters and the moll with his world of associations — seeing them as people in a Paris café, mixing them with Rimbaud, Kafka, Alice in Wonderland.
Pauline Kael
A Godard film for people who don't much care for Godard.
Amy Taubin - Village Voice
Words are not up to capturing its elfin charm, not even up to hinting how beautiful Paris looks in Raoul Coutard's unconsciously romantic photography. Although Godard talked a lot about his theories and his methods, if he had a secret, it was a gift for creating irresistible images. Band of Outsiders shows him at his most amusing, and that is no small thing.
Kenneth Turan - Los Angeles Times
A LUSTROUS RESTORATION! MASTERPIECE! [Godard]'s most charming and, arguably, influential film: a free-associative meditation on the gangster genre that revealed a new way of framing our dreams and our reality. There would be no Bonnie and Clyde without it.
David Edelstein - New York Magazine
WHAT IS VIRTUAL CINEMA?
CHECK OUT OUR FULL VIRTUAL CINEMA PROGRAM HERE!
Virtual Cinema is a platform put together by independent U.S. distributors, in partnerships with independent movie theaters & film festivals, to offer the latest independent and foreign films while theaters remain closed.
HOW TO WATCH THE FILM?
- Click on the LINK HERE.
- Click on VIRTUAL SCREENING.
- Create an account & enter your payment information.
- Pay the $10 rental fee (the SFFF will get 50% of the net revenue).
- You will be able to watch the film for 3 days (72 hours) from the time of rental on any computer, laptop, iPad, Chromebook or other mobile devices.
IMPORTANT! The only way to watch this film on a television set is to mirror or cast from one of the above devices to your television.
Director:
Jean-Luc Godard


Screenplay:
Jean-Luc Godard
Based on the novel Fools' Gold by Dolores Hitchens


97 min

CLASSIC HEIST

Not Rated (all audience)

U.S. Distribution:
Rialto Pictures

In French with English subtitles.

Cast:
Anna Karina: Odile
Claude Brasseur: Arthur
Sami Frey: Franz
Danièle Girard: English teacher
Louisa Colpeyn: Madame Victoria
Ernest Menzer: Arthur's uncle
Chantal Darget: Arthur's aunt
Jean-Luc Godard: Narrator
Your rental supports
the Sacramento French Film Festival
We are very happy to present one of Jean-Luc Godard's most beloved and accessible films, Band of Outsiders, and to pay homage to Godard's muse, the delightful actress Anna Karina, who passed away in December 2019. Band of Outsiders was part of the lineup of the first ever Sacramento French Film Festival in July 2002, so we think it is a fitting choice for our first "Classic" Virtual Cinema offering!
In a dreary Paris suburb, Franz (Sami Frey) and Arthur (Claude Brasseur) don't have money, jobs, nor any prospects, but with their black convertible, they feel like the kings of the world. If only they had more cash... They share a romantic interest in Odile (Anna Karina), who likes them both in return. When Odile lets slip that a stash of cash is hidden in the isolated villa where she lives with her aunt, the men hatch a plan to steal it to finally be able to have the good life they deserve.
A jeu d'esprit, with iconic Godardian set pieces including the trio line-dancing "Le Madison" (the inspiration for the dance scene between Uma Thurman and John Travolta in Quentin Tarantino's Pulp Fiction, 1994 - in tribute, Tarantino also named his film production company "A Band Apart"); and the famous scene in the Louvre Museum, when our heroes attempt to break the world record for running through the museum. You may remember the reference to the Louvre scene in the 2017 documentary Faces Places, directed by Agnès Varda and JR (MiniFest 2017).
With music by the great Michel Legrand.
OPENING FRIDAY, MAY 1, 2020
on VIRTUAL CINEMA ONLY!