L'IMPORTANT C'EST D'AIMER
1975

Director: Andrzej Zulawski
Screenplay: Christopher Frank & Andrzej Zulawski. Based on Christopher Frank's novel La Nuit Américaine.

Cast:
Nadine Chevalier: Romy Schneider
Servais Mont: Fabio Testi
Jacques Chevalier: Jacques Dutronc
Mazelli: Claude Dauphin
113 minutes
Drama
Not Rated
Romy Schneider delivers a César Award-winning performance as a down-on-her-luck actress in L'important c'est d'aimer, Andrzej Żuławski's "passionate portrait of the dignity – and the indignities – of an actor's work" (Film Comment).
Forced to earn a living by accepting demeaning roles negotiated by her erratic husband (Jacques Dutronc), Nadine Chevalier (Schneider) encounters tabloid photographer Servais Mont (Fabio Testi) on the set of a film. Desperate to win her affections, Servais secretly uses money borrowed from a shady associate to bankroll her next project, a production of Richard III with Nadine starring opposite the maniacal German thespian Karl-Heinz Zimmer (Klaus Kinski).
WATCH L'IMPORTANT C'EST D'AIMER, HERE!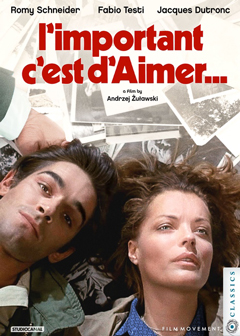 WATCH THE FILM HERE!
$10 rental fee

AWARD
1976 César for best Actress (Romy Schneider)
REVIEWS
Intemperate, garish, outrageous, and unmissable....
Melissa Anderson - The Village Voice
This passionate portrait of the dignity—and the indignities—of an actor's work is one of his (Zulawski) best films.
Ela Bittencourt - Film Comment
Schneider, who embodies the very heart of L'Important C'est D'aimer, may deliver a performance that tops even Isabelle Adjani's wide-eyed, operatically voluptuous turn in Possession. She startles for the way she conveys something buried death and twisted inside Nadine. Hers is a fearless performance not because she gets naked, in the figurative sense (the nudity is, in fact, quite chaste), but because she allows herself to be so vulnerable.
Jeremiah Kipp - Slant Magazine
The searing, sometimes confounding film also ideally showcases the heartbreaking talents of Schneider, who deservedly won her first César award for her work here. The restoration...is lovely; Ricardo Aronovich's cinematography is largely a study of tragic faces, and when his light hits the whites of Schneider's eyes a certain way, the effect is breathtaking.
Glenn Kenny - The New York Times