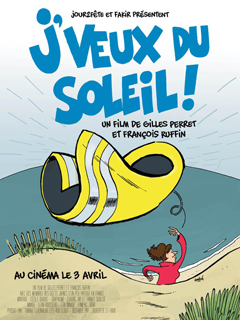 Friday, June 28 - 6:00pm
Followed by Q&A with Le Professeur Kevin Elstob
REVIEWS
A lively and compassionate look at the yellow vest protests. Jordan Mintzer - Hollywood Reporter
Narrated with the same communicative joy as "Merci Patron !", This political film is never tearful. Many testimonies are heartbreaking but with the hope of galvanizing us. Jérémie Couston – Télérama
No shock demonstration here, but a succession of testimonies to say the hell with precariousness, and advocate for the necessary return to social dialogue and solidarity. Karelle Fitoussi – Paris Match
It is therefore necessary to emphasize the courage and the intelligence of this first film on the Yellow Vests movement, which does not try to encompass all the complexity of the mobilization (the film lasts 1h15), but to describe it in the present time. Ludovic Béot – Les Inrockuptibles
Directors:
Gilles Perret & François Ruffin

Screenplay:
Gilles Perret & François Ruffin


76 min

Documentary

Not Rated (all audiences)

International Sales: Jour 2 Fête

In French with English subtitles.

Cast:
François Ruffin: himself
Les Gilets Jaunes: themselves

Followed by Q&A with Le Professeur Kevin Elstob
WATCH THE TRAILER!
(BANDE ANNONCE)
"I changed the brake pads and coolant. 350 €. Let's go!" With these words, François Ruffin invites us on a road trip around France, to find out why many French people decided to join the "Gilets Jaunes" (Yellow Vests) movement, the unprecedented social uprising that has been going on in France since November 2018. The Yellow Vests occupy roundabouts and demonstrate on Saturdays all over France.
In the winter of 2018, armed with their humor, camera, and new brake pads, Ruffin (an investigative journalist and elected representative of the Assemblee Nationale, also director of Merci Patron ! – MiniFest 2016), and his accomplice, co-director Gilles Perret, crossed the country from north to south, stopping at every yellow roundabout along the way to listen to the people. They talk about their lives, their everyday struggles. It is like opening a surprise package. What will come out? Will it be laughter or tears? Tenderness or anger? Hope or despair? Ruffin and Perret give voices to these forgotten people we rarely get a chance to be heard. They capture the magical moments when women and men, usually resigned, stand up with pride to claim their place in the sun.
The French title of the film, J'Veux du soleil (I want sunshine), was inspired by a popular 1991 song by the band Au P'tit Bonheur (watch the video clip here). The band appears at the end of the film for a cover of their song, accompanied by one of the Gilet Jaunes that Ruffin and Perret met on their trip. It is a moment of pure happiness and hope.
Shown with I AM BLESSED (Je suis le plus heureux) by Mathieu Alexandre & Axel Dhrey

CREST THEATRE
Friday, June 28 - ??