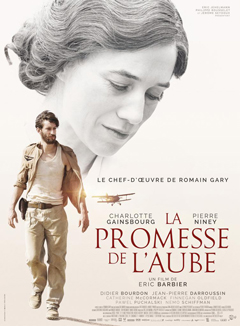 Sunday, June 23 - 11am
Followed by Q&A with Le Professeur Kevin Elstob
REVIEWS
This offbeat, literary biopic... is charming, funny, suspenseful and ultimately moving. Hannah Brown – Jerusalem Post
It will be loved by those who love larger than life stories. Mirito Torreiro – Fotogramas
This successful and poignant adaptation of a cult novel holds all its promises. – Femme Actuelle
AWARD
- 2019 Atlanta Jewish Film Festival, Jury Prize for Narrative Feature
Director:
Eric Barbier

Screenplay:
Marie Eynard & Eric Barbier. Based on the eponymous novel by Romain Gary


131 min

Epic Drama

Not Rated (nudity, adult themes)

US Distribution: Menemsha Films

In French with English subtitles.

Cast:
Pierre Niney: Roman Kacew, aka Romain Gary
Charlotte Gainsbourg: Nina Kacew
Didier Bourdon: Alex Gubernatis
Jean-Pierre Darroussin: Zaremba
Catherine McCormack: Lesley Blanch
Finnegan Oldfield: Capitaine Langer
Pawel Puchalski: Romain (8-10 years old)
Némo Schiffman: Romain (14-16 years old)

Followed by Q&A with Le Professeur Kevin Elstob

WATCH THE TRAILER!
(BANDE ANNONCE)
"You will become a great man, a pilot, a writer, an Ambassador of France, a lady's man!" continually repeats Nina Kacew (Charlotte Gainsbourg, in a phenomenal performance as the ultimate Jewish mother) to her son Roman (portrayed as an adult by Pierre Niney, Frantz – MiniFest 2016). Her love and ambition for him have no limits and soon she moves their family of two from Poland to France, determined to give him the best chances in life.
This epic and sumptuous drama is at times comical and always poignant. It tells the romantic story of Roman – who later became famous under his French name, Romain Gary – and the bond that unites him to his endearing and self-sacrificing single mother. He owes his passion for life, strength, and social successes to her, but she is also his burden: how could any woman's love compare to her boundless, if overbearing, maternal love?
The film follows Gary from Poland to Nice to Africa (where he was a bombardier during World War II, owing his survival to his mother's regular letters) and beyond when, as his mother foretold, he went on to become one of the major novelists of the twentieth century. He is the only writer to have won the prestigious literary Goncourt Prize twice (the second time under the pseudonym of Emile Ajar). He also was the French Consul General in Los Angeles; and he married, among others, the beautiful American actress Jean Seberg.
Promise at Dawn is based on Romain Gary's autobiographical novel. It was first adapted to the screen by Jules Dassin in 1971.
Shown with THE TREE by Han Yang & Basil Malek

CREST THEATRE
Sunday, June 23 - 11:00am