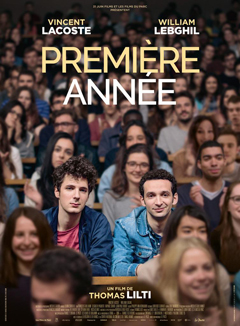 Saturday, June 29 - 1:25pm
REVIEWS
Thomas Lilti directs a fresh and intelligent new comedy about the outrageous medical degree selection process, through the portrait of a friendship. Fabien Lemercier – Cineuropa
Thomas Lilti methodically dissects the contradiction between the knowledge mechanically inculcated and regurgitated, and the human complexity of what is to come. Thomas Sotinel – Le Monde
In addition to exposing very clearly how the first year of medicine is calamitous, the film touches a sensitive fiber: the impossible solidarity when places are scarce. Anne Diatkin – Libération
AWARD
- 2019 Club Média Ciné 2019, Breakthrough Actor (William Lebghil)
Director:
Thomas Lilti

Screenplay:
Thomas Lilti


92 min

Dramatic Comedy

Not Rated (all audiences)

US Distribution: Distrib Films

In French with English subtitles.

Cast:
Vincent Lacoste: Antoine Verdier
William Lebghil: Benjamin Sitbon
Michel Lerousseau: Serge, Benjamin's father
Darina Al Joundi: Martine, Benjamin's mother
Benoît Di Marco: François, Antoine's father
Graziella Delerm: Annick, Antoine's mother
Guillaume Clérice: Vincent Grimaldi
Alexandre Blazy: Simon Sitbon

WATCH THE TRAILER!
(BANDE ANNONCE)
Two students decide to study together to prepare for the decisive final exam of the first year of medical school. The competition is ruthless. Can their unlikely friendship survive it?
Antoine (Vincent Lacoste, Hippocrates – SFFF 2015, Jacky in the Kingdom of Women – SFFF 2015, French Kissers – SFFF 2010) is about to start his first year of medical school... for the third time. For Benjamin (William Lebghil, C'Est La Vie – MiniFest 2018, Some Like It Veiled – SFFF 2018, Jacky in the Kingdom of Women), just out of high school, it will be his first try. The son of a well-known surgeon, he only chose medical school to satisfy his demanding father. With his working class background and giant dream of becoming a doctor, the idealistic Antoine couldn't be more different. Yet, the two become friends and decide to study together. On a tight daily schedule, they spend every waking hours studying for the make-or-break final exam. But things come easy for Benjamin, while Antoine still struggles. Soon, jealousy mixed with exhaustion threatens Antoine's health and their friendship.
The first year of French medical school is known for its fiercely competitive environment: less than 25% of the students make it to the second year. After Hippocrates and Diary of a French Doctor, director Thomas Lilti, who was himself a medical student, continues his tender and often humorous exploration of French doctors' lives. Based on his personal experiences, The Freshmen reunites Lilti with his favorite actor (and one of ours, too): Vincent Lacoste.
Shown with NIKKI MARIANNE by Guillaume Caramelle

CREST THEATRE
Saturday, June 29 - 1:25pm