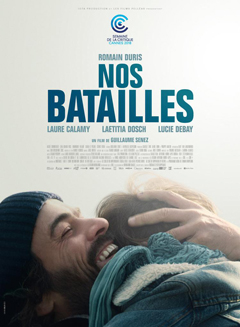 Saturday, June 29 - 3:40pm
Followed by Q&A with Le Professeur Kevin Elstob
REVIEWS
An intimate, thoughtful portrait of a family in quiet crisis. Guy Lodge – Variety
Simultaneously, the feature outlines the tenderly humanistic worldview of Senez, whose characters aren't bad people and whose cinema doesn't judge but observes and lets audiences make up their own minds about the state of the world we live in, both inside our homes and outside. Boyd van Hoeij – Hollywood Reporter
This modest but convincing film benefits from a fine ensemble cast and a committed central performance by Romain Duris. Lisa Nesselson – Screen Daily
AWARDS
- 2019 Magritte Awards for Best Film, Best Director, Best Supporting Actress (Lucie Debay), Most Promising Actress (Lena Girard Voss) & Best Editing
- 2019 Favorites FF Bremen – Bremen's Favourite Award
- 2018 Torino Film Festival – Audience Award, Cicutti Award & Interfidi Award
- 2018 Hamburg Film Festival – Critics Choice award
- 2018 FIFF Namur – Cinevox Award
- 2018 French Film Festival of Helvétie – Celestine Award
- 2018 Festival Jean Carmet in Moulins – Jury Award for Lucie Debay & Audience Award for Laetitia Dosch
- 2018 International French Festival in Acadie – Mention for Laetitia Dosch
Director : Guillaume Senez

Screenplay: Guillaume Senez & Raphaëlle Desplechin


98 min

Drama

Not Rated (all audiences)

International Sales: Be For Films

In French with English subtitles.

Cast:
Romain Duris: Olivier Vallet
Basile Grunberger: Elliot Vallet
Lena Girard Voss: Rose Vallet
Lucie Debay: Laura Vallet
Laure Calamy: Claire
Dominique Valadié: Joëlle
Laetitia Dosch: Betty

Followed by Q&A with Le Professeur Kevin Elstob

WATCH THE TRAILER!
(BANDE ANNONCE)
Olivier (Romain Duris, a familiar face at the SFFF: Black Tide - MiniFest 2018, The New Girlfriend – SFFF 2015, Chinese Puzzle – SFFF 2014, Heartbreaker – SFFF 2010, The Beat That My Heart Skipped – SFFF 2005) is a supervisor in an Amazon-like warehouse where, as a union leader, he is committed to fighting injustice and supporting his co-workers in their hostile work environment. His wife, Laura (Lucie Debay), is left mostly on her own to take care of their two children while also holding a full time job. Despite many signs, Olivier is too preoccupied by his responsibilities at work to see how exhausted and overwhelmed she is.
One day, Laura doesn't pick up the kids from school, doesn't show up at work… she just disappears without a trace. Olivier finds himself alone to juggle the children's needs and his demanding job. Faced with new responsibilities, and despite the help of his mother and sister (Laetitia Dosch, Gaspard at the Wedding – SFFF 2018), he struggles to find a balance. But he knows he must come to terms with his new life because Laura might not come back.
The sensitive Our Struggles is Belgian director Guillaume Senez's second feature. It dominated the Magritte Awards (Belgium Oscars) in 2019, and was nominated for the 2019 César for Best Foreign Film. The cast, led by Romain Duris, is remarkable, with a special mention to the two luminous kids, Basile Grunberger and
Lena Girard Voss, who are excellent as children trying to make sense of being abandoned by their otherwise loving mother.
Shown with GONE (Disparue) by Joan Bentosela

CREST THEATRE
Saturday, June 29 - 3:40pm