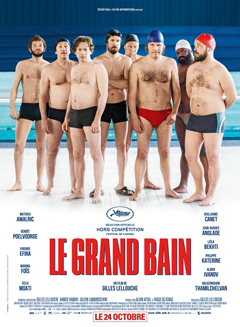 Sunday, October 27- 4:35pm


REVIEWS
A gold medal to Gilles Lellouche! Lili Yubari - Biba
A Must-see! Sabrina Nadjar - Femme Actuelle
The perfect feel-good movie! Véronique Trouillet - Studio Magazine
Funny, dynamic, very well written, beautiful and sensitive. Gilles Kerdreux - Ouest France
AWARDS
- 2019 César for Best Supporting Actor (Philippe Katerine)
- 2019 Best Feature, Victoria Film Festival
- 2018 Mel Hoppenheim Audience Award, CINEMANIA Francophone Film Festival

Director:
Gilles Lellouche


Screenplay:
Gilles Lellouche, Ahmed Hamidi & Julien Lambroschini



2018 - 123 min

Feelgood Ensemble Comedy

Not Rated (adult situations)

US Distribution: Level Films

In French with English subtitles.

Cast:
Mathieu Amalric: Bertrand
Guillaume Canet: Laurent
Benoît Poelvoorde: Marcus
Jean-Hugues Anglade: Simon
Philippe Katerine: Thierry
Virginie Efira: Delphine
Leïla Bekhti: Amanda
Marina Foïs: Claire
Félix Moati: John
Alban Ivanov: Basile
Balasingham Thamilchelvan: Avanish
Jonathan Zaccaï: Thibault
Mélanie Doutey: Clem

WATCH THE TRAILER!
(BANDE ANNONCE)
Mathieu Amalric (A Man, a Real Man & Tournées – SFFF 2011, Kings and Queen – SFFF 2005, Quantum of Solace, Munich, The Diving Bell and the Butterfly) leads an all-star cast in this feel-good buddy comedy directed by actor Gilles Lellouche (In Safe Hands – SFFF 2019, C'est la Vie ! – MiniFest 2018).
Bertrand (Amalric) has been unemployed for two years and spends his idle days playing Candy Crush on his couch. One day, on a whim, he signs up to be part of an all-male synchronized swimming team at his local pool. No special qualifications are required and his prospective teammates are, like him, not particularly athletic men tackling their own midlife crises: Laurent (Guillaume Canet), a divorced factory manager with anger issues; Simon (Jean-Hugues Anglade, Diva - SFFF 2010), a failed rocker who lives in his camper van/recording studio, still dreaming of stardom; Marcus (Benoît Poelvoorde, Man Bites Dog - SFFF 2010), a businessman on the verge of bankruptcy; and Thierry (Philippe Katerine, in a role that earned him the 2019 César for Best Supporting Actor; I Am A No Man's Land – SFFF 2012), the pool janitor, the most devoted but most maltreated member of the team. The team is coached by another lost soul, Delphine (Virginie Efira, An Impossible Love – SFFF 2019), a former champion turned alcoholic, soon joined by her ex-partner Amanda (Leïla Bekhti), whose bootcamp approach will lead them all the way to the World Championship for a finale of pure joy!
Braving the skepticism and ridicule of their families, the unlikely athletes will find friendship and a sense of belonging while celebrating their inner Esther Williams. Sink or Swim is a subtle and tender crowd-pleaser, skillfully alternating between hilarity and heartbreak. It was inspired by Men Who Swim, a 2010 documentary that chronicled the exploits of the real-life synchronized swimming team, the "Stockholm Art Swim Gents".
PURCHASE TICKETS HERE
ESQUIRE IMAX THEATRE
Sunday, October 27 - 4:35pm