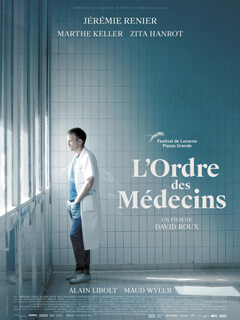 Sunday, June 30 - 1:20pm
Followed by Q&A with Director David Roux
REVIEWS
The emotion that emerges without pathos makes you want to prescribe this film to all lovers of beautiful and well told human stories. Caroline Vié – 20 Minutes
A nuanced chronicle of hopes and doubts. Amélie Cordonnier – Femme Actuelle
A very personal first film, at the same time simple and complex, modest and accomplished, on resilience, family, roots, and what binds us in painful times. Baptiste Thion – Le Journal du Dimanche
Director:
David Roux


Screenplay:
David Roux


93 min

Drama

Not Rated (adult situations)

International Sales: Pyramide Films

In French with English subtitles.

Cast:
Jérémie Renier: Simon Chaykine
Marthe Keller: Mathilde Chaykine
Zita Hanrot: Agathe
Maud Wyler: Julia
Alain Libolt: Sylvain Chaykine
Frédéric Epaud: Fred
Justine Bachelet: Cécilia

Followed by Q&A with Director David Roux
WATCH THE TRAILER!
(BANDE ANNONCE)
Simon (the charismatic Jérémie Renier, Double Lover – SFFF 2018) is an experienced pulmonologist who rubs shoulders with pain and death on a daily basis as the head of his hospital's respiratory unit. He is compassionate with his patients, understanding end of life issues. Like any good professional, he has learned to shield himself, and he teaches his interns about the necessity of not becoming emotionally involved in patients' lives.
When his own mother (the beautiful Marthe Keller) is hospitalized in critical condition in the hospital's cancer unit, Simon's private and professional lives collide. His certainties become doubts. Breath of Life is set almost entirely between the walls of the hospital, which gives the film a claustrophobic atmosphere that parallels Simon's state of mind, as he must come to terms with his mother's fate and accept the limits of his profession: how can you be a good doctor if you can't save the ones you love?
Breath of Life is the first feature from French writer-director David Roux, who will be in attendance at the Crest Theatre to present his film on Sunday, June 30.
Shown with REMIND ME (Rappelle moi) by Marie-Hélène Copti

CREST THEATRE
Sunday, June 30 - 1:20pm