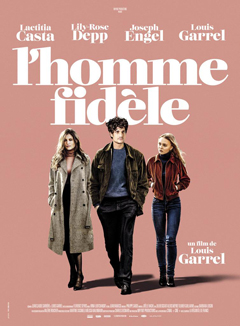 Sunday, June 23 - 4:30pm
REVIEWS
Garrel's second feature film as a director is as delicate and delightful as a well-whipped meringue: light, fluffy, sweet and delectable. Bedatri D. Choudhury - Vague Visages
It can't be overstated the simple pleasures of something that's genuine but never cringe-inducing, and light but never sugary. – Ethan Vestby, The Film Stage
"Dramatically dazzling. Taps into the French New Wave while attributing the lion's share of the relationship power not to a man, but to a woman." – France 24
A Faithful Man shows that Garrel has promise as a filmmaker, with a knack for directing actors and a welcome sense of Gallic wit. Jordan Mintzer - Hollywood Reporter
AWARDS
- 2019 Buenos Aires International Festival of Independent Cinema, International Competition, Best Director
- 2018 San Sebastián International Film Festival 2018, Jury Prize for Best Screenplay
- 2018 TIFF, Honorable Mention - FIPRESCI Awards
Director:
Louis Garrel

Screenplay:
Jean-Claude Carrière, Louis Garrel & Florence Seyvos


75 min

Romantic comedy

Not Rated (adult situations)

US Distribution: Kino Lorber

In French with English subtitles.

Cast:
Louis Garrel: Abel
Laetitia Casta: Marianne
Lily-Rose Depp: Eve
Joseph Engel: Joseph
Diane Courseille: Eve (13 years old)

WATCH THE TRAILER!
(BANDE ANNONCE)
As Abel (Louis Garrel, Godard Mon Amour – SFFF 2018) is about to leave for work, his live-in girlfriend, Marianne (Laetitia Casta, Gainsbourg: A Heroic Life - SFFF 2011), tells him that she is pregnant. With another man's baby. The father is their friend, Paul, and she wants to raise her child with him.

Fast forward eight years after their separation and Abel meets Marianne again. It is Paul's funeral and Abel selfishly sees this tragic event as a good thing. Paul's death will allow him to win Marianne back. At the funeral, he also meets Joseph, Marianne and Paul's son, an inquisitive boy, and Paul's younger sister, Eve (Lily-Rose Depp, daughter of Johnny Depp and French actress-singer Vanessa Paradis, in one of her first roles). Eve was just a teenager when he last saw her, but now she has bloomed into a full-grown woman who knows what she wants. And what she wants is Abel!
Abel wants Marianne. Eve wants Abel. Who knows what Marianne truly wants?
Louis Garrel's sophomore feature, in which he also stars alongside Casta, his real-life wife, is a charming and witty romantic comedy, reminiscent of the New Wave and benefiting from a tight screenplay written in collaboration with veteran screenwriter Jean-Claude Carrière (recipient of an Honorary oscar in 2015).
Shown with EMBRACED (Etreintes) by Justine Vuylsteker

CREST THEATRE
Sunday, June 23 - 4:30pm