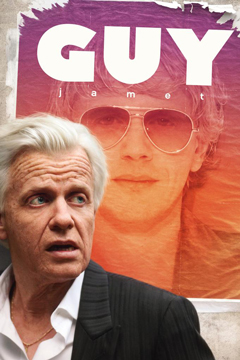 Saturday, June 22 - 9:00pm
Followed by coffee & pastries provided by Coffee Works.
REVIEWS
A sparkling, ironic salute to age and passing time. Deborah Young – Hollywood Reporter
A film full of emotion and melancholy, tackling the themes of filiation, the artist's life, and the passing of time. Sabrina Nadjar – Femme Actuelle
"Guy" is an absolute achievement. Jean-François Lixon - Culturebox – France Télévisions
AWARDS
- 2019 Lumiere Award for Best Actor (Alex Lutz)
- 2019 César for Best Actor (Alex Lutz) & Best Original Score
- 2018 France Odeon Festival, Best Actor (Alex Lutz)
Director:
Alex Lutz

Screenplay: Alex Lutz, Thibault Segouin & Anaïs Deban


101 min

Mocumentary

Not Rated (adult language)

US Distribution: Distrib Films

In French with English subtitles.

Cast:
Alex Lutz: Guy Jamet
Tom Dingler: Gauthier
Pascale Arbillot: Sophie Ravel
Nicole Calfan: Stéphanie Madhani
Dani: Anne-Marie
Élodie Bouchez: Anne-Marie (young)
Marina Hands: Kris-Eva
Julie Arnold: Nathalie

Followed by coffee & pastries provided by Coffee Works
WATCH THE TRAILER!
(BANDE ANNONCE)
Gauthier, a young journalist, learns from his mother that he is the illegitimate son of Guy Jamet, a 72-year-old French pop singer who has seen better days, but refuses to leave the stage. As the old-time crooner embarks on a tour to promote his newly released cover album, Gauthier decides to follow Guy under the pretext of filming a documentary about his career. Behind the scenes, on stage, on the road, and at home with Guy and his wife (a young actress on the rise), Gauthier will learn everything about his father while putting together a moving portrait retracing Guy's life.
Guy is a funny and good-humored tour de force, a nostalgic tribute to the beginnings of French pop music, and a true audience pleaser. We think it's best to not know too much about this 2019 César-winning film going in. Instead, have fun trying to figure out what is real and what is not!
Shown with PILE POIL by Lauriane Escaffre & Yvonnick Muller

CREST THEATRE
Saturday, June 22 - 9:00pm