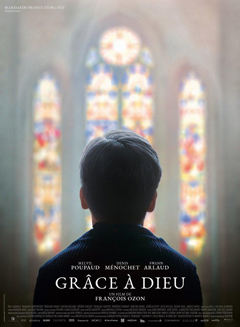 Sunday, October 27- 7:10pm
Screening followed by Q&A with Le Professeur Kevin Elstob.

REVIEWS
François Ozon changes pace with an ambitious, urgently topical story from France's side of the Catholic Church abuse scandal. Guy Lodge - Variety
François Ozon might be known for his kinky thrillers, but his journalistic "Spotlight" riff nails the Catholic Church to the cross. David Ehrlich - IndieWire
This is a social justice film made with purposeful conviction and a quiet, never strident, sense of indignation. David Rooney - Hollywood Reporter
...it declares that the culture of silence must be abolished. In that respect, it's gripping, urgent filmmaking. Redmond Bacon - Cultured Vultures
AWARDS
- 2019 Silver Berlin Bear Award - Grand Jury Prize, Berlin International Film Festival.
- 2019 Best Actors (Swann Arlaud, Denis Ménochet & Melvil Poupaud) Las Palmas Film Festival.
Director:
François Ozon


Screenplay:
François Ozon


2019 - 137 min

True Drama / Crime

Not Rated (adult situations, disturbing subject)

US Distribution: Music Box

In French with English subtitles.

Screening followed by Q&A with Le Professeur Kevin Elstob.

Cast:
Melvil Poupaud: Alexandre Guérin
Denis Ménochet: François Debord
Swann Arlaud: Emmanuel Thomassin
Éric Caravaca: Gilles Perret
François Marthouret: Cardinal Barbarin
Bernard Verley: Bernard Preynat
Josiane Balasko: Irène
Martine Erhel: Régine Maire
Hélène Vincent: Odile Debord
François Chattot: Pierre Debord
Frédéric Pierrot: Le capitaine Courteau



WATCH THE TRAILER!
(BANDE ANNONCE)
With By the Grace of God, his deliberate homage to Spotlight, the versatile François Ozon (Double Lover – SFFF 2018, Frantz – MiniFest 2016, Young & Beautiful – SFFF 2014, In the House – SFFF 2013) helms a gripping dramatization of a child sexual abuse scandal in the Catholic Church in France. The film tells the story of three survivors, now adult men, each of whom plays an important role in holding to account Cardinal Philippe Barbarin, Archbishop of Lyon, accused of covering up the abuse committed by a priest in his diocese for more than 30 years.
Alexandre (Melvil Poupaud) lives in Lyon with his wife and children. One day he learns by chance that Bernard Preynat (Bernard Verley), the priest who abused him when he was a boy scout, is still working with children. Unable to remain silent any longer, the still-devout Alexandre formally takes his case all the way up to Cardinal Barbarin (François Marthouret), who professes ignorance and outrage over Preynat's crimes, but does little about it. Also compelled to come forward is François (Denis Ménochet, Custody – SFFF 2018), now an atheist, who wants to publicly wreak havoc on the Church. News of their fight finally reaches Emmanuel (Swann Arlaud, Bloody Milk – SFFF 2018, A Woman's Life - SFFF 2017), who, unlike the other two, has never managed to put the trauma behind him. With the help of another survivor, Gilles (Eric Caravaca), the men decide to "lift the burden of silence" on their ordeal.
Ozon changed the last names of the survivors, but By the Grace of God is based on real testimonies. The Catholic Church unsuccessfully tried to block the release of the film in France in the midst of Cardinal Barbarin's trial. In March 2019, Barbarin received a six month conditional sentence for "non-disclosure of sexual abuse," and has concurrently resigned from the Church.
Fun fact: English subtitles by Sacramento native and Ozon's official interpreter, Sionann O'Neill, who attended the 2018 SFFF!
ESQUIRE IMAX THEATRE
Sunday, October 27 - 7:10pm
Screening followed by Q&A with Le Professeur Kevin Elstob.