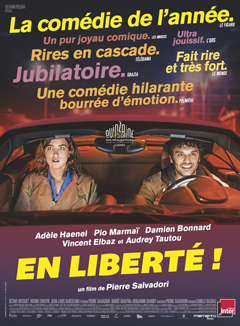 Saturday, June 22 - 6:35pm
REVIEWS
A giddy comedy (…) delightfully goofy. Tim Grieson – Screen Daily
The versatile Adèle Haenel stars in this amiable, silly, and sparky French cops 'n' criminals comedy from director Pierre Salvadori. Jessica Kiang – Variety
It's frantic stuff, slight and cheesy but endearingly French and undeniably funny. Gus Edgar – Film Inquiry
AWARDS
- 2018 FIFF Namur, Special Mention
- 2019 Lumiere Award for Best Screenplay
- 2018 International Cannes Film Festival, Directors' Fortnight, SACD Prize
Director:
Pierre Salvadori

Screenplay:
Pierre Salvadori, Benoît Graffin & Benjamin Charbit


97 min

Comedy

Not Rated (some violence)

US Distribution: Kino Lorber

In French with English subtitles.

Cast:
Adèle Haenel: Lieutenant de police Yvonne Santi
Pio Marmaï: Antoine Parent
Audrey Tautou: Agnès Parent
Damien Bonnard: Louis
Vincent Elbaz: Capitaine de police Jean Santi
Hocine Choutri: Mariton
Octave Bossuet: Théo Santi

WATCH THE TRAILER!
(BANDE ANNONCE)
In a small town on the French Riviera, Detective Yvonne Santi (a successful comical turn from indie favorite Adèle Haenel, BPM – SFFF 2018, The Unknown Girl – SFFF 2017, Love at First Fight – SFFF 2015, Suzanne – SFFF 2014) is the devoted widow of Police Chief Santi (Vincent Elbaz), a local hero killed in the line of duty two years earlier. Santi is idolized by their young son, whose favorite bedtime stories are his dad's exploits. When she finds out that not only was her husband actually a deeply corrupt cop, but also that an innocent man, Antoine (the charming Pio Marmaï, Back to Burgundy – MiniFest 2017, in an unhinged performance), has been sent to prison as his scapegoat, the disillusioned Yvonne is determined to makes amends.
After eight years spent behind bars, Antoine is released and Yvonne decides to go undercover to help ensure he settles back into his life. Prison has transformed Antoine into a disillusioned and resentful man who, despite the love of his devoted wife (the always enchanting Audrey Tautou), is having trouble adjusting to life on the outside, to say the least. Feeling he has nothing to lose and that society owes him, he engages into erratic and dangerous behavior. Yvonne, intent on keeping him from landing back in jail, has no choice but to make contact, leading to a spectacular and hilarious sequence of events.
The frantic and farcical The Trouble With You is director Pierre Salvadori (In the Courtyard – SFFF 2015, Beautiful Lies - SFFF 2011) at his best.
Shown with ADAM'S SKIRT (La Jupe d'Adam) by Clément Tréhin-Lalanne

CREST THEATRE
Saturday, June 22 - 6:35pm