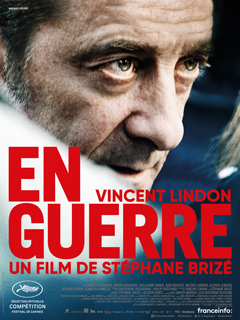 Saturday, June 22 - 3:45pm
Followed by Q&A with Volma Volcy, Field Director of the Sacramento Central Labor Council
REVIEWS
A drama with incredible emotional power, based on real-time narration, punchy dialogue and breathtaking sequence-shots. Stéphanie Belpêche - Le Journal du Dimanche
Striking, percussive, masterful. Jean-Claude Raspiengeas - La Croix
A powerful fiction, which gains in gravity to better crush the spectators during an epilogue that plunges the room into a state of rare stupefaction. Jérôme Vermelin - LCI
As Union leader, spokesperson and factory worker Laurent Amédéo, Lindon adds another rivetingly real characterization to his muscular everyman repertoire. Jessica Kiang - Variety
A generally gripping account of workers taking on the man. Jordan Mintzer - Hollywood Reporter
AWARD
- 2018 Chicago International Film Festival, Silver Hugo for Best Screenplay
- 2018 Palic Film Festival, FIPRESCI Prize /Best Film
Director:
Stéphane Brizé


Screenplay: Stéphane Brizé & Olivier Gorce


113 min

Drama

Not Rated (all audiences)

US Distribution: Cinema Libre Studios

In French with English subtitles.

Followed by Q&A with Volma Volcy, Field Director of the Sacramento Central Labor Council

Cast:
Vincent Lindon: Laurent Amédéo
Mélanie Rover: Mélanie, syndicaliste CGT 1
Jacques Borderie: Directeur d'établissement
David Rey: Directeur administratif et financier
Olivier Lemaire: Syndicaliste SIPI 1
Isabelle Rufin: La DRH
Bruno Bourthol: Syndicaliste SIPI 2
Sébastien Vamelle: Syndicaliste CGT 2
Jean-Noel Tronc: Maire d'Agen
Valérie Lamond: L'avocate des salariés
Guillaume Daret: Journaliste TV
Jean Grosset: le conseiller social de l'Elysée

WATCH THE TRAILER!
(BANDE ANNONCE)
Despite heavy financial sacrifices by their employees, financial assistance from the French Government, and record profits, the management of Perrin Industries, owned by a German company, decides to shut down one of its French factories. The 1100 employees, determined to fight this unfair and brutal decision and to save their jobs, go on strike. The union man leading the fight is Laurent Amédéo, perfectly portrayed by Vincent Lindon who is reuniting here for the fourth time with director Stéphane Brizé (the SFFF presented their previous collaboration, The Measure of a Man, at the2015 MiniFest).
At first, the workers are united, but after a violent incident involving the German CEO, public opinion turns against them and the united front begins to crack. Some Unions start to think they should accept lay-offs, stop the strike, and instead fight over the amount of their severance packages. Once considered a hero, Amédéo finds himself alone against almost everyone involved.
This chilling account of a fictional strike unfolds like a classic tragedy. It is a brutal, loud, and immersing film that benefits from the work of non-professional actors in roles they have known in real life, and from the power of Lindon's performance. The narrative is propelled by long interludes, scored to powerful music by Bertrand Blessing that separate each act of the tragic story until the shocking end.
Shown with WHATEVER IT TAKES (Tout se mérite) by Pierre Amstulz Roch

CREST THEATRE
Saturday, June 22 - 3:45pm