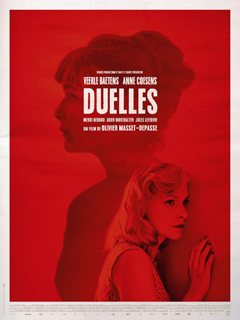 Saturday, June 22- 1:25pm
TICKET INFORMATION
REVIEWS
These perfect housewives serve each other passive aggression like petits fours and protestations of affection like they're macarons iced with arsenic. Jessica Kiang – Variety
Masset-Depasse deftly handles a plot which flirts openly with ripe melodrama, but keeps the audience guessing about which household the madness and paranoia lurks within. Wendy Ide – Screen International
A stylish, well-played retro thriller. Jordan Mintzer – Hollywood Reporter
Director: Olivier Masset-Depasse

Screenplay: Olivier Masset-Depasse, Giordano Gederlini & François Verjans


97 min

PSYCHOLOGICAL THRILLER

Not Rated (nudity, some violence, adult situations)

International Sales: Indie Sales

In French with English subtitles.

Cast:
Veerle Baetens: Alice Brunelle
Anne Coesens: Céline Geniot
Mehdi Nebbou: Simon Brunelle
Arieh Worthalter: Damien Geniot
Jules Lefebvres: Théo Brunelle
Luan Adam: Maxime Genjot

WATCH THE TRAILER!
(BANDE ANNONCE)
In an idyllic Brussels neighborhood in the early 1960s, it is Céline's (Anne Coesens) birthday, and Alice (Veerle Baetens) has organized the perfect party! Not only are the two women best friends, they also live in attached homes, their husbands are friends, and so are their children, Maxime and Théo. This perfect suburban harmony is shattered when tragedy suddenly strikes, leading them to question the relationships they once held so dear. As suspicion, guilt, and resentment engulf their intertwined lives, the housewives truly turn desperate.
This gripping psychological thriller with a stunning retro look is as twisted as Hitchcock and as oppressive as Chabrol. It will keep you wondering till the end.
Mothers' Instinct is Belgian director Olivier Masset-Depasse's second feature.
Shown with THE KITE (LE CERF-VOLISTE) by Cécile Despretz et Lucie Andouche

CREST THEATRE
Saturday, June 22- 1:25pm