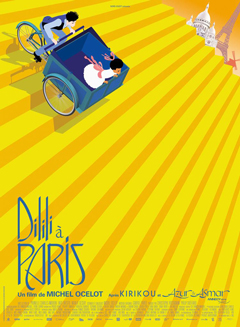 Sunday, June 30 - 11:00am
REVIEWS
"Dilili in Paris" is a kid-friendly, family film that takes viewers on an epic journey throughout Paris. Ocelot's attention to detail makes this animated film a must see. Lynnette Nicholas – Black Girl Nerds
Taking his lyrical and pedagogical brand of animation all the way back to La Belle Epoque, writer-director Michel Ocelot offers up a pleasantly meaningful journey through French cultural history in his latest feature, "Dilili in Paris." A delightful cultural mystery. Jordan Mintzer – Hollywood Reporter
The new feature film by Michel Ocelot has art and science aligned to save the world from gender-based catastrophe. Vassilis Kroustallis – Zippy Frames
AWARD
- 2019 César for Best Animated Feature
Director: Michel Ocelot

Screenplay: Michel Ocelot


95 min

Animation

Not Rated (all audiences)

US Distribution: Samuel Goldwyn Films

In French with English subtitles.

Cast (voice):
Prunelle Charles-Ambron: Dilili
Enzo Ratsito: Orel
Natalie Dessay: Emma Calvé
Bruno Paviot: Lebeuf, Pasteur, Les frères Lumière, Egoutier
Jérémy Lopez: Toulouse-Lautrec, Poiret, Vallotton, Mâle-maître cocher
Harrison Arevalo: Picasso
Nicolas Planchais: Diaghilev, Grand mâle-maître, Bancroche
Thissa d'Avila Bensalah: Colette, Camille Claudel, Suzanne Valadon, Berthe Morisot
Michel Elias: Renoir, Brancusi, Renan, Mâle-maître Opéra, Fake old man, Impresario
Pascal Pestel: Modigliani
Paul Bandey: Prince de Galles
Isabelle Guiard: Sarah Bernhardt, Ana de Noailles, La Goulue, Maîtresse surveillante
Liliane Rovère: Louise Michel
Karim M'Riba: Debussy
Olivier Claverie : Degas, Monet, Eiffel, Rodin, Clémenceau, Commissaire de police

WATCH THE TRAILER!
(BANDE ANNONCE)
Dilili is an inquisitive and spirited Kanak girl brought to Paris to be part of the 1900 Universal Exhibition, on display in a pretend New Caledonian village. With the help of Orel, a delivery boy, and Emma, an opera singer (voiced by France's most famous contemporary Soprano, Natalie Dessay), she decides to investigate a series of mysterious kidnappings of young girls.
In the course of her investigation, Dilili travels all around Belle Epoque Paris. As a black girl in an all-white city, she's a source of both disdain and curiosity, especially when she speaks in her impeccably polite French. She meets one famous figure after another from this artistic and scientific heyday (Marcel Proust, Louis Pasteur, Toulouse Lautrec, Henri Matisse, Claude Debussy, Sarah Bernhardt, and Marie Curie, to name a few), who each give her clues to help her save Parisian girls from a terrible fate.
After the success of Kirikou and the Sorceress and Azur & Asmar, Michel Ocelot returns with an enchanting new tale of brave young heroes, mysteries and discoveries, kidnappings and ordeals, extraordinary places and magical encounters, in which good must challenge dark forces before triumphing. The animated characters are inserted into real life historical Parisian landscapes in this gorgeous film that was awarded the 2019 César for Best Animated Feature.
Dilili invites you to visit a Paris unlike anything you've seen before. Come along!
Shown with NEARLY THERE! (Presque !) by Colette D'Amico

CREST THEATRE
Sunday, June 30 - 11:00am