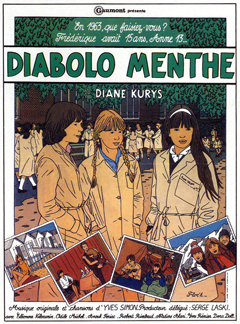 Saturday, June 29 - 11:00am
REVIEWS
Aspiring filmmakers struggling with how to be specific yet universal — especially when it comes to material steeped in autobiography — should do themselves a favor and get to know French filmmaker Diane Kurys' wonderfully unsentimental, captivating 1977 debut, "Peppermint Soda (…) Kurys makes (the film) both era-vivid (hello early '60s) and timelessly appealing (hello grades, teachers, parents, boys, freedom and politics). Robert Abele — Los Angeles Times
We've all probably seen too many syrupy coming of age films over the years. So it's a pleasure to see a film about adolescents that avoids sentimentality and clichés. Paul Parcellin — Film Threat
"Peppermint Soda" is a vital look at surviving adolescence. Kevin Jagernauth – The Playlist
AWARDS
- 1977 Louis Delluc Prize
- 1979 National Board of Review, Top Foreign Films Award
Director:
Diane Kurys

Screenplay: Diane Kurys & Alain Le Henry


101 min

Classic Coming of age Drama

Not Rated (all audience)

US Distribution: Cohen Media

In French with English subtitles.

Cast:
Eléonore Klarwein: Anne Weber
Odile Michel: Frédérique Weber
Anouk Ferjac: Mme Weber
Michel Puterflam: M. Weber
Yves Rénier: Philippe
Robert Rimbaud: Mr. Cazeau
Marie-Véronique Maurin: Muriel
Corinne Dacla: Pascale
Coralie Clément: Perrine

WATCH THE TRAILER!
(BANDE ANNONCE)
Autumn 1963. Anne Weber, 13 (Eléonore Klarwein, dazzling in her first role), lives in Paris with her divorced mother (Anouk Ferjac) and big sister Frédérique (Odile Michel), two years older. It's the beginning of the school year and the two girls are going back to their strict all-girls school. Anne yearns to wear stockings, which her mother strictly forbids, and to enjoy a peppermint soda (the diabolo menthe from the French title) in a café. She just cannot seem to grow up fast enough. While their mother is caught up with her own new boyfriend, and between conversations about boys with her friends, Anne watches her sister get a boyfriend and turn to political activism (which, after sex, might have been the biggest fear of 1960s parents!). Her sister's choice foreshadows the 1968 unrest that will happen five years later.
The semi-autobiographical Diabolo Menthe is a loving slice of life (director Diane Kurys cheekily dedicated it to her sister "who still hasn't given back my orange sweater") that spans one year with the Weber family. Kurys, at the time a struggling actress, directed Diabolo Menthe, her first film, in 1977, about 15 years after the action takes place. The film is both anchored in its period, the rigid 1960s, and timeless in its presentation of the woe of being a teenage girl. Forty years later, it hasn't lost any of its appeal.
The now cult song from the film, created by 1970s heartthrob Yves Simon, was a huge hit in France. You can watch the original video clip here.
Shown with CUPID IS A FISH (Cupidon est un poisson) by Marion Christmann & et Amélie Prévot

CREST THEATRE
Saturday, June 29 - 11:00am