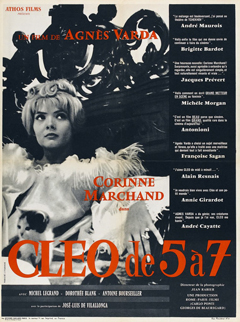 Saturday, June 22 - 11:00am
Followed by Q&A with Richard St. Ofle, SCC Professor & Film Scholar
REVIEWS
Varda transforms the typical French cinema gamine into a complex, tragic figure: the girl who's all too good at playing plaything, forced to face the hollowness of her youth. Ed Halter – Village Voice
Filming the sights (and sounds) of Paris with voracious visual delight, Varda embraces the turbulent distractions of public life, even as she filters them through Cleo's shattered consciousness. Richard Brody – New Yorker
AWARD
- French Syndicate of Cinema Critics, Critics Award, 1963
Director:
Agnès Varda

Screenplay:
Agnès Varda


90 min

Classic Drama

Not Rated (all audiences)

US Distribution: Criterion

In French with English subtitles.

Cast:
Corinne Marchand: Florence 'Cléo' Victoire
Antoine Bourseiller: Antoine
Dominique Davray: Angèle
Dorothée Blank: Dorothée
Michel Legrand: Bob, the Pianist
José Luis de Vilallonga: the Lover
Loye Payen: Irma, the cartomancienne

Followed by Q&A with Richard St. Ofle, SCC Professor & Film Scholar
WATCH THE TRAILER!
(BANDE ANNONCE)
The SFFF is proud to celebrate filmmaker Agnès Varda (Faces Places – MiniFest 2017), who passed away in March at the age of 91. Varda, a French New Wave pioneer, would become the premier and most influential female director of her generation. Now a cult classic, Cléo from 5 to 7, about a woman coming to term with her mortality, is Varda's second feature. She went on to direct more than 50 films, including documentaries and fiction.
Cléo (Corinne Marchand), a young, pretty, and usually carefree singer with several hit singles to her name, anxiously awaits the results of a recent biopsy. She worries about a terminal cancer diagnosis and her mind goes from panic to confidence, and from hope to despair. During an hour and a half, filling the time until her doctor's appointment, she walks the streets of Paris and meets with friends, her lover, a fellow musician, and random people. Yet, she feels isolated until she meets a soldier on his way to war in Algeria. He is the only one who shares the same uncertainties and fear about his fate. He will help Cléo find peace before the results come back.
In her 2000 essay on the film, movie critic Molly Haskel wrote: Cléo from 5 to 7 (...) dazzled when it opened, and looks even more timely today in its tackling of the fashionable subject of female identity as a function of how women see and are seen by the world. (…) Through an arresting use of Paris as both visual centerpiece and reflection of a woman's inner journey, Varda paints an enduring portrait of a woman's evolution from a shallow and superstitious child-woman to a person who can feel and express shock and anguish and finally empathy.
Cléo from 5 to 7 is a spirited mix of "cinema vérité" and melodrama, featuring a score by Michel Legrand (The Umbrellas of Cherbourg) and cameos by Jean-Luc Godard, Anna Karina, and Legrand himself.
Shown with CRAZY HAIR by Christophe Deram

CREST THEATRE
Saturday, June 22 - 11:00am