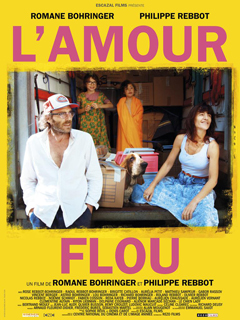 Saturday, June 29 - 6:10pm
Followed by Q&A with Director & Star Romane Bohringer

REVIEWS
Bravo to them for converting a family break-up into a tender un-breakup." Rosslyn Hyams – Cinefile
"In the Move for Love" is a film that feels good. Caroline Vié – 20 Minutes
Between pure fantasy and autobiographical narrative, their "désamour"(unlove) recipe is at once sparkling and poignant, tender and sharp. Emilie Leoni – Télé Loisirs
AWARD
- 2018 Festival du Film Francophone d'Angoulême, Audience Prize
Director:
Romane Bohringer & Philippe Rebbot

Screenplay:
Romane Bohringer & Philippe Rebbot


97 min

Comedy

Not Rated (adult situations)

International Sales: Other Angle Pictures

In French with English subtitles.

Cast:
Romane Bohringer: Romane
Philippe Rebbot: Philippe
Rose Rebbot-Bohringer: Rose
Raoul Rebbot-Bohringer: Raoul
Brigitte Catillon: La psy de Romane
Aurélia Petit: La psy de Philippe
Yves Storper: L'assistant mise en scène
Gábor Rassov: Le directeur de l'école
Vincent Berger: Nicolas, le promoteur
Astrid Bohringer: Romane's mother
Lou Bohringer: Romane's sister
Richard Bohringer: Romane's father

Followed by Q&A with Director & Star Romane Bohringer

WATCH THE TRAILER!
(BANDE ANNONCE)
Romane (Romane Bohringer) and Philippe (Philippe Rebbot) are splitting up after 10 years together, two children, and a dog. They are out of love. Well, they are not in love anymore, but they still love each other very much, too much to really separate. It's blurry… the French title of the film translates literally as "Blurry Love." They can't envision being too far from each other so they come up with the idea of a "separtment": two separate apartments, connected by their children's bedroom. Is it possible to separate together? To break up, without breaking everything? Romane and Philippe think so, and they take us along as they navigate a bumpy and unexplored path toward possible happiness.
Obscuring facts and fiction, In the Move for Love stars real-life ex-couple Romane Bohringer and Philippe Rebbot, in refreshing and hilarious performances, as well as their children, friends, and family, including a cameo by Romane's real-life dad and cult French actor, Richard Bohringer. A feel-good, kindhearted comedy based on the drama of separation, In the Move for Love was nominated for the 2019 César for Best First Picture.
Romane Bohringer will be in attendance at the Crest to present her film on Saturday, June 29.
Shown with GIVE ME A FRENCH FESSÉE by Lucas Ansart, Camille Sallan, Laura Passalacqua, Loïck Piton

CREST THEATRE
Saturday, June 29 - 6:10pm