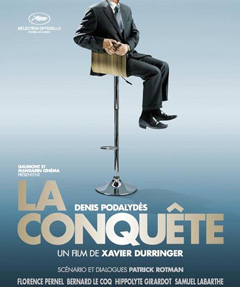 In French with English subtitles.
REVIEWS
"The Conquest," a feature about recent French politics, makes me yearn for a similar American treatment of our own scene.
Roger Ebert - CHICAGO SUN-TIMES
"Durringer has a good sense of pacing, and he keeps the various interlocking machinations reasonably comprehensible even for those of us who aren't experts in French political intrigue."
Peter Rainer - CHRISITAN SCIENCE MONITOR
"Aided by an excellent ensemble cast, director Xavier Durringer and his co-scripter, Patrick Rotman, don't refrain from showing this truly repellent side of Sarko during his rise from minister of justice in 2002 to the highest elected office."
Melissa Anderson - VILLAGE VOICE
"A smart, involving and strikingly adult drama about Sarkozy's rise to power..."
Kenneth Turan - LOS ANGELES TIMES
Screening made possible with the support of:
"There is this winery..."

That is in the middle of the desert.
That is near vineyards first planted in 1629.
That is at an altitude of 4200 feet.
That makes one of the driest Sparkling Wines in the country.
That makes one of the brightest Sparkling Wines in the country.
That is owned and operated by a French Champagne family, that has been here in the US for over 25 years...
Give Up?
GRUET WINERY
Albuquerque, New Mexico
Taste our Story for Yourself!
Directors: Xavier Durringer

Screenplay: Xavier Durringer & Patrick Rotman

105 min

US Distribution: Music Box Films

POLITICAL SATIRE

Not Rated (all audiences)

Cast:

Denis Podalydès: Nicolas Sarkozy
Florence Pernel: Cécilia Sarkozy
Bernard le Coq: Jacques Chirac
Michèle Moretti: Bernadette Chirac
Samuel Labarthe: Dominique de Villepin
Hyppolite Girardot: Claude Guéant


Join us at the Crest Theatre for an exclusive evening of "Film, Champagne & Cake" featuring the Sacramento Premiere of LA CONQUÊTE & a tasting of a variety of sparkling wines (Méthode Champenoise) by Gruet Winery.
Buy your tickets now: Download the form to order your tickets by mail or go to tickets.com.
This Fundraising Screening benefits the 11th Sacramento French Film Festival (June 15-24, 2012 at the Crest Theatre). Proceeds of the evening will be used to bring the best and newest films from France this June.
Think the U.S. Presidential election process is a farce? Come see France's version...

The controversial and hilarious LA CONQUÊTE follows current French President Nicolas Sarkozy's rise to power, leading up to his 2007 election. LA CONQUÊTE is the first French film about a President still in office – a President presently in the middle of his own re-election campaign, no less! 2012 is a Presidential Election year, both in France and in the U.S. and this exclusive SFFF screening will occur between the two rounds of the 2012 French Presidential election (April 22 and May 6). During the post screening discussion, while tasting a variety of sparkling wines by Gruet Winery, Professor Kevin Elstob will provide the audience with insight into the French election process, and the 2012 first-round results…

When Sarkozy was elected President of France in May 2007, it was a dream come true for this ambitious man who had made many enemies –including in his own party– on his way to the top. But the dream had its dark side: as Sarkozy reached the political top, his highly publicized second marriage was secretly unraveling…
LA CONQUÊTE offers an appropriately cynical and humorous view of the international governing class and its behind-the-scenes Machiavellian chess games. The talented Denis Podalydès delivers a witty, yet commanding portrayal of Sarkozy, supported by an all-star cast portraying major French political figures, including former French President Jacques Chirac. Director Xavier Durringer never veers too far from reality, even while deploying fictional embellishments and a larger-than-life sense of humor.
Buy your tickets now: Download the form to order your tickets by mail or go to tickets.com.
Thursday April 26 - 7pm - Crest Theatre