IT ALL STARTED WITH A POSTER...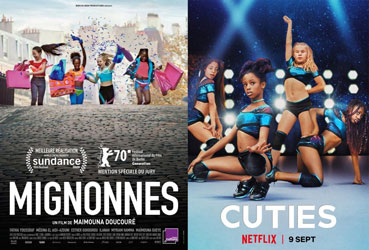 Original French poster / Netflix poster
Join the SFFF on a NETFLIX WATCH PARTY
CUTIES (MIGNONNES)
Followed by a ZOOM CHAT with
FELLOW SFFF LOVERS & LE PROFESSEUR KEVIN ELSTOB
THURSDAY, OCTOBER 1st
Watch Party @6:30pm
Zoom Discussion @8:15pm
(Read below for how to RSVP)
You may have followed the controversy surrounding the award-winning French film CUTIES (MIGNONNES) by Maïmouna Doucouré, released on Netflix earlier this month. Let's find out for ourselves what we think about the film, and engage in a thoughtful discussion afterward.
Watch a"Why I made Cuties" interview with
director Maïmouna Doucouré HERE.
We presented Doucouré's short film MAMAN(S) [Mother(s)] to great acclaim in 2017 as part of our 10th Winter Shorts Fest: it was voted Best Live Action Short by the Sacramento audience (and also received the 2017 César for Best Short Film)! 
Doucouré's first feature, CUTIES received the Directing Award/World Cinema Dramatic at the 2020 Sundance International Film Festival & the Special Jury Mention at the 2020 Berlin International Film Festival/Generation Kplus. WATCH CUTIES' TRAILER HERE
How to join us: you can choose to watch the film with us on Thursday at 6:30pm, or you can watch it on your own on Netflix any time before October 1st, and join us for the Zoom Discussion, set to start at 8:15pm. Either way, you need to RSVP to receive the links to join the watch party and/or the discussion!
RSVP via email to kelstob@csus.edu
by Thursday, October 1st at noon. 
We will email the link to join our Netflix Watch Party about 30 minutes before the 6:30pm start.
INSTRUCTIONS REGARDING NETFLIX WATCH PARTY!
1/ How to install Netflix Party
If you have not installed Netflix Party already, here is how to do it (please do not wait till the last minute or you may miss the beginning of the film):
• You need to be a Netflix subscriber.
• Netflix Party is only available as an extension to the Google Chrome web browser. Netflix Party allows you to watch Netflix with your friends online with synchronized video playback and a group chat.
• To install Netflix Party, open Google Chrome:
-Go to: https://www.netflixparty.com/
-Click the "Install Netflix Party" button.
-Once you are redirected to the Chrome Web Store, click "Add to Chrome" to finish installing Netflix Party. 

2/How to join the Netflix Watch Party
• Click on the party link (that we will send by email within 30 minutes of when the Watch PArty will start) which will redirect you to Netflix's website.
• Click on the "NP" button next to the address bar (top right of your screen), and you should automatically join the party!
• A chat window will appear on the right side of your screen.- If you have any issues finding the "NP," make sure that Netflix opened in Chrome and not another browser.
• By default, Netflix may start the film in its English dubbed version. If you want to watch it in its original French version with English subtitles, please go to settings!
MINIFEST 2020: VIRTUAL EDITION
SAVE THE DATE! OCTOBER 21-25, 2020
We are happy to announce that our 7th MiniFest/Virtual Edition will be held on our streaming platform from Wednesday, October 21 to Sunday, October 25, 2020.
The 2020 MiniFest will include brand new feature films as well as a selection of short films. The Film Selection is still in process.
Our popular Zoom Conversations with le Professeur Elstob & Special Guests will be back; and local restaurants partnering with us will offer exciting "Dinner and a Movie" film & food pairings!
The platform will be accessible from all over the U.S., so please share the fun and tell both your local and out-of-town friends and family!
More details coming soon.
VIRTUAL CINEMA

FIND OUR VIRTUAL CINEMA OFFERINGS HERE.
We currently offer 5 new releases, 5 classics
& 1 program of short films.