GET READY SACRAMENTO:
SERGE! IS COMING TO TOWN...
FILMS, LIVE TRIBUTE BANDS, DJs, DANCE PARTY, LIGHTSHOW, SERGE ART &
FRENCH COCKTAILS!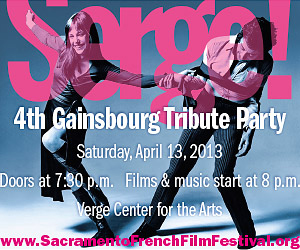 SATURDAY APRIL 13
SERGE!
4th ANNUAL GAINSBOURG TRIBUTE PARTY
@ Verge Center for the Arts - 625 S St., Sacramento

Doors at 7:30pm
$7 Admission, to benefit the 12th Sacramento French Film Festival and Verge Center for the Arts!

PROGRAM of the EVENING
7:30 p.m. Doors and bar open!
8:00 p.m. Short Film Screening.
9:00 p.m. Live Music by Afternoon Teacup Collection & Peter Petty IS Dirge Gainsbourg.
10:00 p.m. till 1:00a.m. French Pop Dance Party w/ DJ Christophe & DJ Roger Carpio.
Come whenever you want, stay as long as you wish...
SHORT FILMS!
Films will be presented in French with English subtitles.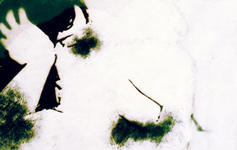 UNE NUIT QU'IL ETAIT A SE MORFONDRE… (One Night He Was Lingering Around…) by Cyril Paris, 2009 - 20'
Lucien loves painting, but his dad wants him to become a pianist... Freely inspired by Serge Gainsbourg's youth.
VARIATIONS SUR MARILOU by Félix Dufour-Lapierre, 2008 6' - Animation
Variations around Gainsbourg's song "Marilou."
L'HISTOIRE DE MELODY NELSON by Sébastien Merlet, 2011 - 38'
L'Histoire de Melody Nelson, Gainsbourg's most famous concept album, is a musical tale recorded in 1971. Using archives and interviews, Merlet's film follows Gainsbourg's creative process... Watch how the tale became a myth!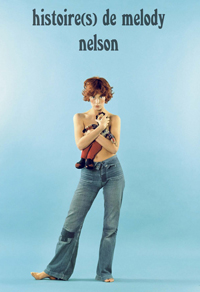 MUSIC, DANCING & MORE!
After the screening, you will dance the night away (till 1am!) to the sound of live tribute bands and Gainsbourg songs!
Serge! brings together several Sacramento musical talents: from DJs Christophe and Roger to live tribute bands Afternoon Teacup Collection  and Peter Petty IS Dirge Gainsbourg.
Serge! will also feature a lightshow from Rainbow Prism Atomic and local Gainsbourg inspired artwork…
Don't forget to visit the bar for champagne, beer, wine and the SFFF's signature Pastis cocktails served to you with an enchanting Southern French accent by Guy, the SFFF bartender!

With the support of:
Record Club
Barefoot Wine & Bubbly
Simply Recipes
Sacramento Metropolitan Arts Commission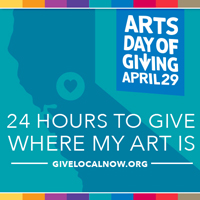 SAVE THE DATE for SACRAMENTO's FIRST
"ARTS DAY OF GIVING", APRIL 29th!

If you are considering renewing your support or becoming a supporter of the SFFF and are able to donate online, please remember April 29th, "Arts Day of Giving", and add value to your support!
On April 29th, contributions made through the Give Local Now website will be matched. To benefit from this wonderful matching opportunity, donations must be made on April 29th, and on that day only, through the Give Local website (www.givelocalnow.org), transformed for the occasion into an event day site, with a credit card. The minimum donation is only $25!
This online fundraising event is organized by the Sacramento Metropolitan Arts Commission, the Sacramento Region Community Foundation, and For Arts Sake.

More reminders to come...

UPCOMING SFFF 2013 EVENTS
4TH SERGE GAINSBOURG PARTY
SATURDAY, APRIL 13
VERGE CENTER FOR THE ARTS
SFFF AT THE CROCKER CROCKER ART MUSEUM
Special screening of The Grocer's Son in conjunction with the Gregory Kondos Retrospective.
THURSDAY, MAY 2
12TH SACRAMENTO FRENCH FILM FESTIVAL
JUNE 21-30
CREST THEATRE
JOIN THE SFFF ON FACEBOOK & TWITTER!