VARDA BY AGNES
THURSDAY, JANUARY 16 2020
THE VERGE CENTER FOR THE ARTS
Doors @7pm / Film @7:30pm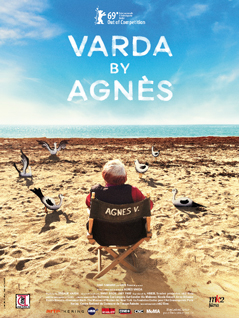 DON'T MISS our first rendez-vous of the year, Thursday, January 16 with the special screening of legendary Agnès Varda's last film, VARDA BY AGNES (Varda Par Agnès) in partnership with and taking place at the Verge Center for the Arts.
The final film from the late, beloved Agnès Varda is a playful, profound, and personal "masterclass" encompassing her six-decade artistic journey. Mischievous and wise, she guides us on a tour through her brilliant career, shedding new light on her films, photography, and recent installation works, while offering her one-of-a-kind reflections on everything from filmmaking to feminism to aging.
Suffused with the people, places, and things she loved (her husband Jacques Demy, cats, colors, beaches, heart-shaped potatoes,...) this wonderfully distinctive work of imaginative autobiography is a warmly human, touchingly bittersweet parting gift from one of cinema's most luminous talents. Watch the trailer here.
Last week, Le Professeur Kevin Elstob met with SFFF regular and Francois Ozon's official English subtitler, Sionnan O'Neill, who has subtitled several of Varda's works, including this last one. Their conversation -recorded at The Verge, on Tuesday, January 7th- will be presented prior to the film on Thursday evening. The screening will be followed by a Q&A with Le Prof Kevin Elstob.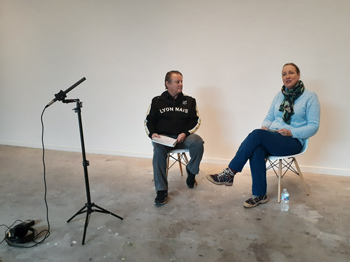 le Prof Kevin Elstob & Sionnan O'Neill @The Verge
WHEN:
Thursday, January 16, 2020
Doors & no-host Bar @ 7pm / Film @ 7:30pm

WHERE:
The Verge Center for the Arts - 625 S St. Sacramento, CA 95811

TICKET PRICE:
Free for Verge Members with advanced registration
$9 General Admission
$7 Seniors/Students
$5 Kids Age 12 and Under
You can purchase your advance tickets HERE.
Seating is limited - reservation recommended!
! SAVE THE DATE & NEW LOCATION !
13th WINTER SHORTS FEST
Thursday, February 27, 2020 - 7pm
@ THE TOWER THEATRE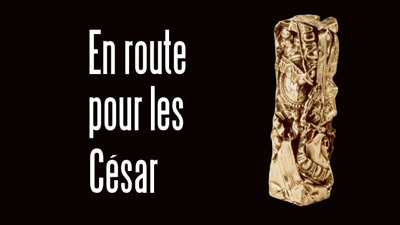 We also are thrilled to announce that 2020 will bring us back to the Tower Theatre -18 years after our inaugural edition- for the 13th Winter Shorts Fest, featuring the César-nominated short films, on Thursday, February 27 @ 7pm! The 2020 César Ceremony will take place the following day, on Friday, February 28.
More info coming soon.
WHEN: Thursday, February 27 @ 7pm
WHERE: Tower Theatre - 2508 Land Park Dr, Sacramento, CA 95818
TICKET PRICE: TBA

SUPPORT THE SFFF
We offer two options to donate online:
• Paypal (click on the yellow DONATE button)
• Square.

Your donation, added to those of other passionate individuals like you, is instrumental to the quality, diversity, and success of our programs!
TOGETHER, WE MAKE IT HAPPEN,
MERCI!