Tribute Party in Honor of
Serge Gainsbourg!
Saturday April 2, 2011
Verge Center for the Arts
8pm-Midnight...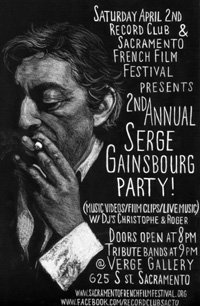 2011 marks the 20th anniversary of the passing of French icon Serge Gainsbourg, who died of a heart attack on March 2, 1991. Born in 1928, Gainsbourg would have turned 82 this year. To honor his memory, the Sacramento French Film Festival, Record Club and The Verge Center for the Arts are hosting a tribute party. It all starts at 8pm on Saturday April 2nd at the Verge Gallery and will feature music videos, film clips, live tribute bands and music by DJ's Christophe and Roger.

Twenty years after his death Serge Gainsbourg is still considered one of the world's most influential popular musicians. If you are not already familiar with his music, it's not too late to get to know him. He is best known as a singer-songwriter and for his wild personal life, led through a thick haze of Gitanes cigarette smoke and alcohol. Gainsbourg is still today a major figure of France's pop-culture. He wrote not only for himself but also for a number of illustrious singers: his lovers Juliette Greco and Brigitte Bardot, his wife Jane Birkin, his daughter Charlotte Gainsbourg, singers Frances Gall and Vanessa Paradis and actresses Catherine Deneuve and Isabelle Adjani, to name only a few. He was also a filmmaker, an actor, a photographer, and an extremely provocative iconoclast, who made sexual advances to a young- and petrified- Whitney Houston on French television and adapted the French national anthem to reggae music.

Our 2nd annual Gainsbourg Party will feature music by DJ's Christophe and Roger, music videos, film clips and live tribute bands including "the Horrorscopes" and " the Harley White Jr. Trio featuring Peter Petty".
WHEN: Saturday April 2, 2011 – Doors at 8pm / Bands at 9pm.
WHERE: Verge Gallery – 625 S Street. - Downtown Sacramento.
PHONE: 916 455 9390: SFFF / 916 448 2985: Verge gallery.
TICKET INFORMATION: $5 Admission, to benefit the 10th Sacramento French Film Festival and the Verge Gallery.
The Sacramento French Film Festival will pay further homage to Gainsbourg during its 10th edition in June 2011, with the presentation of the acclaimed and award-winning feature film "Gainsbourg: Vie Heroique"- directed by Joann Sfar, winner of two 2011 Césars (French Academy Awards): Best Actor in a Leading Role (for Eric Elmosnino) and Best First Feature Film.
Watch Trailer

And... Save the Date for
the SFFF 4th Annual Short Film Screening
Saturday April 30th, 7pm at the Verge Gallery.
More information to come.