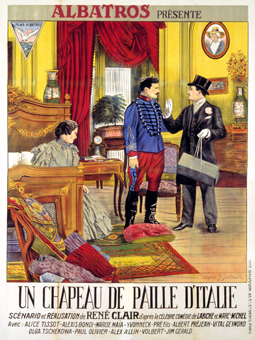 B&W Silent film with Live Music Accompaniment performed by the Sacramento Philharmonic Orchestra.
Saturday January 29th - 8pm & Sunday January 30th - matinée at 2pm - CREST THEATRE
Tickets: $30 / $25 for Amis du Festival, Sac Phil subscribers & TEMPO members.
Reserved seating.

Tickets available:
- at tickets.com
- by phone at 1-800-225-2277, or
- in person at the Crest Theatre (tickets purchased at the Crest Theatre do not incur any fee!).
It's a historical occasion in more ways than one. - San Francisco Examiner
Events like this are few and far between, not least because of the difficulty in accomplishing them, and this one is worth checking out. - Capitol Weekly
Let's face the music and laugh! - Sacramento Bee
Mark your calendars because there will be two performances only for this once-in-a-lifetime pairing of a classic French film with live music by the Sac Philharmonic. - Outword
Screening made possible in part thanks to a grant from the Sacramento Region Community Foundation.

Director: René Clair

Screenplay:
René Clair
based on the play by Eugène Labiche

84 min

COMEDY

Not Rated (General Audience).

Cast:
Albert Préjean: Ferdinand
Geymond Vital:
Lt. Tavernier
Olga Tschechowa: Anais de Beauperthuis
Paul Ollivier:
Oncle Vasinet
Jim Gérald: Beauperthuis

International Distribution: Cinématheque Française
The SFFF partners with the Sacramento Philharmonic in the US Premiere of a classic silent film, An Italian Straw Hat (Un Chapeau de paille d'Italie, 1928), one of the most famous and funny French silent film directed by René Clair, and new musical score.

Music will be performed live by thirteen musicians from the Sacramento Philharmonic Orchestra -including an accordion player of course! Raymond Alessandrini, French composer of the new score who will travel from France especially for the occasion, will conduct the orchestra.

Based on a play by vaudeville playwright Eugène Labiche, An Italian Straw Hat is a highly entertaining typically French farce: Fadinard is on his way to his wedding when his horse eats the hat of a married woman who was spending time with her lover in the bushes of the bois de Vincennes... To avoid her dishonor, Fadinard must find the very same rare hat, made out of straw from Italy. This will greatly disturb his wedding plans… for our guilty pleasure. Famous film critic Pauline Kael described An Italian Straw Hat as "One of the funniest films ever made... so expertly timed and choreographed that farce becomes ballet."
There will be only two performances of this fun-filled and one-of-a-kind event featuring a rare 35mm restored print from the French repository of film archives, the Cinémathèque Française.
Join us for a fun-filled, first-time-ever SFFF event!
Saturday January 29th - 8pm & Sunday January 30th - 2pm - Crest Theatre