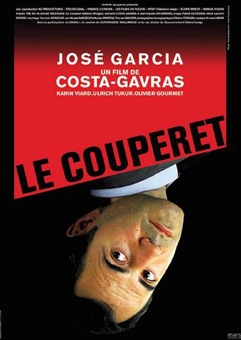 In French with English subtitles.
Reception catering provided by:
Screening made possible with the support of:
A jet-black social comedy marbled with delectably handled close calls, "The Ax" puts the merciless world of downsizing, outsourcing and other capitalist trends on the chopping block. LISA NESSELSON - Variety
Director: Costa- Gavras

Screenplay: Costa-Gavras based on the novel by Donald E. Westlake.

122 min

Not Rated (some violence)

DARK COMEDY & THRILLER

Cast:

José Garcia: Bruno Davert

Karin Viard: Marlène Davert

Geordy Monfils: Maxime Davert

Christa Theret: Betty Davert

Ulrich Tukur: Gérard Hutchinson

Olivier Gourmet: Raymond Machefer
$15 in advance / $20 at the door. Tickets include film & reception.
Advance Tickets available at no fee at the Crest Theatre or by mail order – Print the Advance Order Form and send it with your check to: Sacramento French Film Festival 2634 28th Street – Sacramento, CA 95818.
Based on the novel by celebrated novelist Donald E. Westlake - a Grand Master of the Mystery Writers of America Society - Le Couperet (2005) is a dark social comedy & thriller that tells the topical story of a middle-aged chemist (the remarkable deadpan comic José Garcia) who, after having been fired following the merger of his company and having remained unemployed for three years, decides to improve his chances on the job market by literally eliminating his competitors…
Le Couperet, nominated for 2 French César in 2006, was never released in the U.S. Park Chan-wook (Thirst), one of Korea's best directors, will direct a remake of this amoral tale in 2011.
Greek-born French filmmaker Costa-Gavras is best known for his entertaining films with overt political and social themes, most famously the fast-paced thriller, Z (1969 – Oscar for Best Foreign Language Film, shown last year at the SFFF). Most of his movies were made in France. He also directed several successful films in Hollywood starting with Missing (1982 - winner of the Palme d'Or and Best Actor Award for Jack Lemmon in Cannes ).
Enjoy a thought provoking and entertaining film; fantastic bubbly wine and make it possible for the SFFF to remain a first class event at a reasonable price! It has been more difficult than ever to secure corporate sponsors this year. Funds gathered on April 29th will help us pay for theater rental, film rentals and shipping, printing, marketing, and a long list of the other things it takes to organize a fabulous event each year.
Champagne Reception and Q&A with Kevin Elstob, Professor of French at CSUS follow.
Exceptionnal Screening- Thursday April 29th, 2010 - 7:30pm
One screening only.