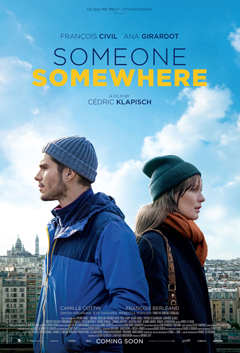 OPENING FRIDAY, APRIL 24, 2020
on VIRTUAL CINEMA ONLY!
REVIEWS
A modern fairytale.
Caroline Vié – 20 Minutes
Cédric Klapisch returns to the endearing Parisian spirit that made the success of his best films. "Someone, Somewhere" is as funny as it is sensitive.
Laurent Cambon – aVoir-aLire.com
Cédric Klapisch reinvents the romantic comedy – Psychologies Magazine
Resolutely optimistic, "Someone, Somewhere" makes us happy.
Isabelle Magnier – Télé 7 Jours
Love and Fate, a winning combination by Klapisch – RTL
"Someone, Somewhere" looks like a romantic comedy, but underneath it almost feels like an anti-romantic comedy: a film of infinite tenderness and humanity that tells us that in order to fall in love we first need to love ourselves. It sounds a little silly on paper but on the screen, it's beautiful, lively and charming.
Geoffrey Crété – Ecran Large
What is Virtual Cinema?
Virtual Cinema is a platform put together by independent U.S. distributors, in partnerships with independent movie theaters & film festivals, to offer the latest independent and foreign films while theaters remain closed.
How to watch the film?
- Click on the LINK HERE.
- Click on RENT
- Create an account & enter your payment information
- Pay the $10 rental fee (the SFFF will get 50% of the net revenue).
- You will be able to watch the film for 3 days (72 hours) from the time of rental on any computer, laptop, iPad, Chromebook or other mobile devices.
IMPORTANT! The only way to watch this film on a television set is to mirror or cast from one of the above devices to your television.
Director:
Cédric Klapisch


Screenplay:
Cédric Klapisch & Santiago Amigorena


110 min

Parisian Romance

Not Rated (all audience)

U.S. Distribution:
Distrib Films

In French with English subtitles.

Cast:
François Civil: Rémy Pelletier
Ana Girardot: Mélanie Brunet
Camille Cottin: Mélanie's pyschologist
François Berléand: Rémy's psychologist
Simon Abkarian: Mansour
Eye Haidara: Djena
Rebecca Marder: Capucine Brunet
Pierre Niney: Mathieu Bernard, the high school friend
Zinedine Soualem: The Pharmacist
Paul Hamy: Steevy
Marie Bunel: Madame Pelletier, Rémy's mother
Patrick d'Assumçao: Monsieur Pelletier - Rémy's father
Garance Clavel: Rémy's sister-in-law

WATCH THE TRAILER
(BANDE ANNONCE)
After a detour via New York City (Chinese Puzzle - SFFF 2014) and Burgundy (Back to Burgundy - MiniFest 2017), Cédric Klapisch reunites with his beloved city of Paris in this singular romance that ends where romantic comedies usually begin.
Rémy and Mélanie (François Civil and Ana Girardot, who also starred in Back to Burgundy) are two lonely thirty-year-olds who live next door to each other, near the Gare du Nord train station in Paris. Although their paths often cross, they have never met. They live opposite lives. She dates on social media, but the subsequent encounters never lead anywhere; he has trouble meeting anyone. She is a scientist in a small cancer research center; he works in a huge call center. She sleeps too much; he can't sleep. After experiencing a panic attack on the métro, Rémy starts seeing a psychotherapist (François Berléand), while Mélanie, depressed, seeks out her own (Camille Cottin).
In the tender and deliberately optimistic Someone, Somewhere, Klapisch follows his two main characters on their parallel paths to self-discovery, until they are ready to finally meet. Focusing on what happens before two people fall in love rather than on the creation of the couple, Klapisch creates a moving and funny portrait of two young people who are both struggling with themselves and with human relationships in today's Paris.
As always in Cédric Klapisch's films, the main characters are surrounded by a gallery of terrific supporting characters, led here by Berléand and Cottin as the psychotherapists, Simon Abkarian as the grocer without whom our heroes may never meet; and Eye Haidara (C'est la Vie! - MiniFest 2018) as Remy's chatty co-worker. And it will be hard to miss the extra jolt of energy provided by Pierre Niney (Promise at Dawn – SFFF 2019, Frantz - MiniFest 2016) in a cameo role.
And, of course, there is Paris, Klapisch's Paris!
OPENING FRIDAY, APRIL 24, 2020
on VIRTUAL CINEMA ONLY!